Site Details: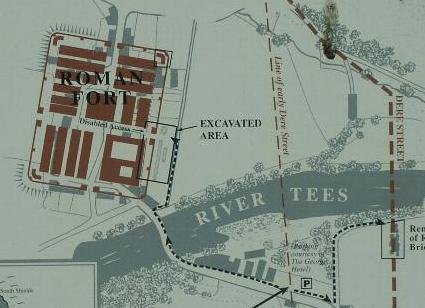 The Roman road from York to the North of England crossed the river Tees at this point. Portions of masonry that where interpreted as a Roman bridge were found in 1972 in advance of gravel quarrying. In order to be a bridge the river Tees must have moved it's course since this was in use.
Only the lowest elements survive. A the base of the peers is a wash-way of large irregular flagstones, on these were built the peers which carried a timber roadway. Remains of a causeway and its revetment can be seen to the southern end of the site.
From the top of the remaining peer, an Iron strap - "Opus Revinctum" can be seen, also the stones, though irregular, are still tightly fitted together.
A model of Piercebridge bridge. The top bridge is the location of the original Roman bridge. The posts half way down show the location of a newly discovered and as yet unidentified "third" bridge at Piercebridge. At the bottom of the picture is the location for the second bridge. Note also the river cutting, which Ray Selkirk suggest may be also of Roman origin.
The pavement of the spillway. This is another unexplained feature of the "bridge", If you are to build a bridge, why pave the riverbed?
Opus Revinctum
An interesting aspect of the broken masonry of the second bridge, is the methods of strengthening used by the Romans - Opus Revinctum is the bonding together of adjacent block of stone using iron straps, tethered to the rock by lead.
Other Notes:
Site Gallery
Gallery Empty