Dundon Hill – Somerset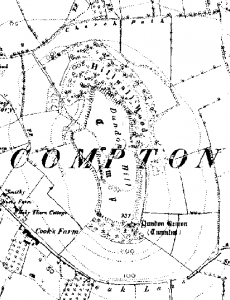 Dundon Hill as it appears on the 1850 OS map.
There is a plan and short description in volume 2 of the Victoria County History for Somerset (pages 490-1).
Ian Burrow's Hillfort and Hill-top Settlement in Somerset in the First to Eighth Centuries has a more recent (but less detailed) description at p 214.
It's about 4.8 ha in area and univallate. No excavations seem to have been carried out though before the First World War flint and pottery scatters were found there.
Dr Robert Dunning – the editor of the Somerset volumes of the VCH – may be able to tell you when the parish is likely to be covered; when published there may be more detail available. He works at County Hall Taunton. As does Bob Croft the county archaeologist who may know of recent work at the site.
Scheduled Monuments
OBJECTID 43789
Reference SO22076
Name COMPTON DUNDON HILLFORT WITH DUNDON BEACON, EAST OF DUNDON
Suffix
OBJECTID 43789