Castle Point, Troup
Grid ref: NJ 837 661 Ordnance Survey Landranger series sheet no.s 29 and 30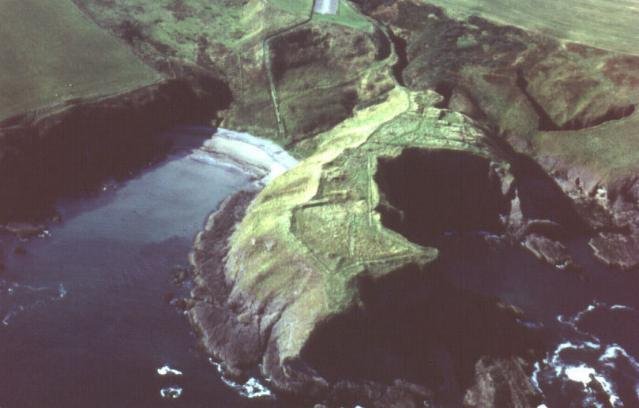 10 miles W of Fraserburgh. Access to this promontory fort is by a motorable track N from the B9031 W of the steep-sided valley of the Tore of Troup. The site, which dominates the little Cullykhan Bay, is reached by walking along a narrow path NE from the car park.
Excavation has illustrated the complex defensive history of this site during later prehistoric times. Initially, the Knoll, marking the landward extremity of the site was fortified by at least one palisade. This was subsequently replaced by a timber-and-stone wall, related to German examples, with elaborate gateway. Later still, a smaller area was enclosed by a wall which has been vitrified.
Occupation evidence includes indications of metal workers' workshops. There is also evidence of use, though not fortification, in Dark Age times and the remains of a still later castle.